Use Chuck Wagon Trail as an Alternate Route to Devil's Bridge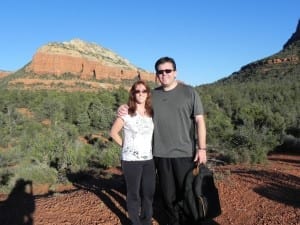 Sedona visitors wishing to hike the popular Devil's Bridge Trail typically have to brave driving the FR 152 road which is supposed to be for high clearance vehicles only.  We see cars crawl along it all the time and wonder… "What are they thinking"?  Or people will park in the limited parking space and then hike the dirt road and they will watch all the people in their sedans brave the road and wonder… yep, "What are the thinking"?  There have been improvements to the newer Chuck Wagon trail which is an easy to moderate hike and can easily access the Devil's Bridge trail head.  It's slightly shorter at 1.2 miles, far less congested and much more scenic than hiking the road FR 152.  Plus as an added bonus, there is a larger parking area at the Chuck Wagon Trail trail head.
So here's how to get to Chuck Wagon trail.  From Dry Creek Road, turn right on to Long Canyon Rd. and go .3 miles to the Chuck Wagon Trail Head.  The parking lot is on the right hand side and shared with Mescal Trail Head access road.
Hike out of the parking lot for .2 miles where the Chuck Wagon trail forks, STAY LEFT (Heading right adds 1.4 miles before the trail ends at the intersection of Lizard Head and Girdner trails).
After staying left at the fork, hike 1 mile and you will see a trail going off to the right at the sign "To Devil's Bridge".  Simply follow it for .1 mile to Devil's Bridge Trail Head off the FR 152.
A big thank you to Mr. Jim Wilson FOF Volunteer for giving us this info, we really enjoyed this version of the hike and wanted to share it with everyone!  If you visit the Sedona visitors center ask for him, he is very friendly and very knowledgeable about hiking in Sedona.
See you on the Bridge!