Welcome to AGuidetoSedona.com
Your Guide to Sedona Hotels, Restaurants & Things to do!
A Guide to Sedona offers you the best advice and lowest price on Things to do in Sedona, Sedona Vortex information, and Sedona Hotels. We are your one-stop to plan your trip to Sedona, AZ.
You asked and we delivered. Here is our Best Sedona Hotels list.
Here is AGuidetoSedona.com's Top 10 list of the Best Hotels in Sedona.
Our list of the Top 10 best hotels in Sedona started off as just a simple question, "Do we really know what 10 Sedona hotels we would add to a Best of list?"  This desire to know what hotels would make our list transformed into a heartfelt and decently researched list of "our" Top 10 Best Hotels in Sedona. You may agree or disagree, but one thing is for sure, you can't go wrong with any of the hotels listed on this Best Hotels in Sedona list.
Search for Sedona Hotels and Short Term Rentals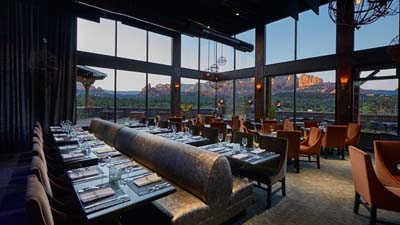 Pictured: Chef Lisa Dahl's Mariposa – Latin Inspired Grill. Our current top pick for Best Restaurant in Sedona.
Our A Guide to the Best Sedona Restaurants list features our favorite Sedona Restaurants. Our best Restaurants list offers a diverse mix of the food and dining experiences here in Sedona. The beauty of Sedona Dining, besides the amazing surroundings, is the totally eclectic mix of traditional restaurants and off the wall restaurants all situated in a small geographic area. From casual to comfortably elegant, Sedona offers restaurants for every dining occasion and palate. And no matter where in Sedona you happen to be, our Best Sedona Restaurants list are well worth visiting.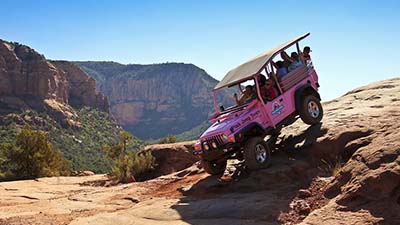 Pictured: Sedona Jeep Tours View our Top 10 Sedona Jeep Tours list. We also shared our video from our July 2019 of our Broken Arrow Jeep tour adventure. It was awesome! This Sedona jeep tour offers a 4×4 adventure that everyone will enjoy. (Even our teenagers loved it!)

There are so many things to do in Sedona, it's hard to sum up in just one paragraph.  Let's just say, whatever is calling to you, Sedona will provide.  If you've never been on one a Sedona jeep tour, we highly recommend it.  Fun, exciting, beautiful scenery and it is short enough to allow for other activities in the same day.  We also recommend hiking to visit a Sedona Vortex. The beauty of Sedona is meant to be seen and her energy is meant to be felt. Getting out into it, on a trail or tour will energize you beyond expectation.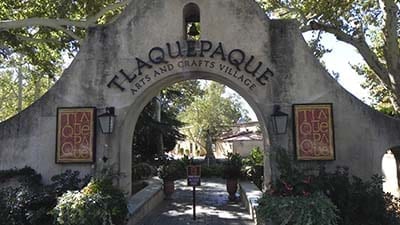 Pictured: Tlaquepaque Arts and Crafts Village, our current favorite place to browse and shop.
Sedona is known for it's eclectic mix of shopping venues. Amazing art galleries, quaint shops and local art fairs and street markets all co-exist in perfect harmony. Visitors to Sedona find there is no better way to spend the day than browsing the nooks and crannies of local Sedona shops looking for that one perfect find. Sedona is well known for its local artists and art scene. There is such diverse flavor of Sedona artisans and it's always on display here is Sedona.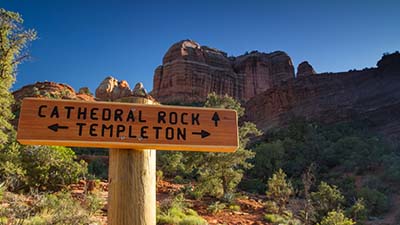 Pictured: Cathedral Rock, Our current favorite vortex site, warm weather and cool flowing waters.
Sedona Vortexes and hiking Sedona's trails are favorite pastimes of the millions of visitors that visit Sedona each year.  Hiking the trails in Sedona will surround you with red rock formations so full of beauty and energy that you could spend an entire lifetime exploring Sedona and never have the same experience twice.  If you're hunting Vortexes in Sedona you are certain to experience Sedona's magical energy.  The main vortex sites in Sedona are Airport Mesa Vortex, Bell Rock Vortex, Boynton Canyon Vortex and Cathedral Rock Vortex. With a little effort and information, you too can have a vortex experience which some have called the most amazing experience of their lives. Visit our Sedona Vortex page to find lots of vortex information and directions on where the vortexes are.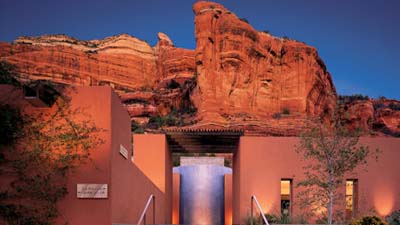 Spas in Sedona
Pictured: Mii amo Spa at the Enchantment Resort is our current favorite spa in Sedona.  Boynton Canyon and Mii amo Spa are both magical places.
If you are looking for information on Sedona Spas and secluded retreats then be sure to visit our Sedona Spa page to learn all about the spas in Sedona and their services. (Spa content coming soon)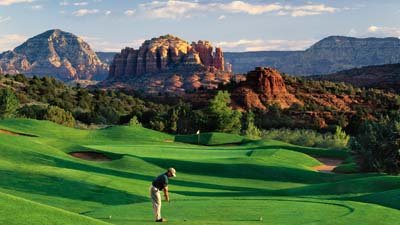 Sedona Golf Courses
Pictured: Sedona Golf Resort at the Hilton Sedona Resort at Bell Rock.  This 18-hole championship course offers eye candy panoramic views and challenging golf.  What more can you ask for.
If you want to play golf in Sedona, be sure to check out our Sedona Golf page where you will find information on the golf courses in Sedona and links to their golf websites. (Golf content coming soon)